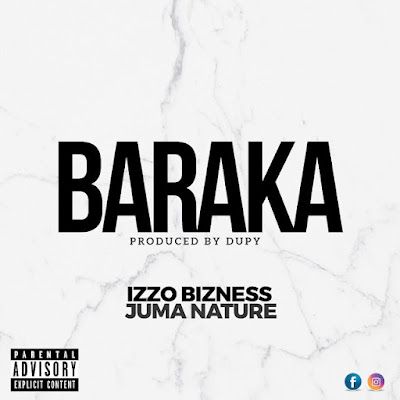 "Izzo Bizness X Juma Nature – Baraka" is a new audio song released by Tanzanian artists Izzo Bizness and Juma Nature. The song, titled "Baraka" which translates to "Blessings" in English, is a collaboration between the two talented musicians.
In this song, Izzo Bizness and Juma Nature deliver their signature styles and unique lyrical abilities. The artists combine their vocal skills to create a lively and catchy tune that listeners can enjoy. The song incorporates elements of Bongo Flava, a popular genre in Tanzania, which blends various musical influences such as hip-hop, R&B, and traditional Tanzanian sounds.
The lyrics of "Baraka" reflect on the blessings and hardships of life. The artists touch on themes of resilience, gratitude, and perseverance. The song's message reminds listeners to appreciate the blessings they have, even amidst challenges and struggles.
The track is accompanied by a high-quality audio recording that showcases the artists' remarkable talents. The production of the song incorporates smooth melodies, energetic beats, and captivating rhythms that keep listeners engaged from start to finish.
Overall, "Baraka" by Izzo Bizness and Juma Nature is an exciting new release that brings together two well-known artists in the Tanzanian music industry. The song's thoughtful lyrics and infectious melodies make it an enjoyable addition to any playlist.