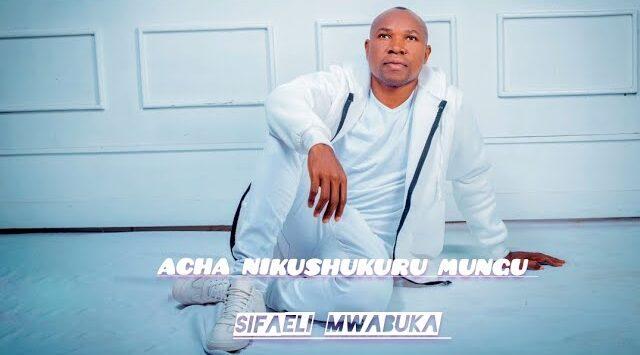 The audio song "Acha Nikushukuru Mungu" by Sifaeli Mwabuka is a highly anticipated release in the music scene. The title translates to "Let Me Thank God" in English.
Sifaeli Mwabuka is a talented artist known for his unique approach to gospel music. His style combines soothing melodies and powerful lyrics that inspire and uplift listeners. With his distinct voice and heartfelt delivery, Mwabuka has gained a significant following in the gospel music industry.
"Acha Nikushukuru Mungu" is a song that aims to express gratitude to God for his countless blessings and grace. The lyrics touch upon various aspects of life, acknowledging God's love, provision, and guidance. This heartfelt expression of gratitude resonates with audiences and serves as a reminder of the significance of being grateful.
The audio production of the song showcases a harmonious blend of traditional and contemporary gospel music elements. The instrumentals complement Mwabuka's vocals, creating a melodious and captivating sound.
Additionally, the song features rich harmonies and backing vocals that add depth and intensity to the overall composition. The arrangement contributes to the emotional impact of the song, evoking a sense of reverence and adoration.
As Sifaeli Mwabuka continues to make a mark in the gospel music genre, "Acha Nikushukuru Mungu" stands out as another remarkable addition to his discography. Through this song, he encourages listeners to appreciate the goodness of God and to always be grateful for His blessings.
Overall, the new audio song "Acha Nikushukuru Mungu" by Sifaeli Mwabuka is an uplifting and soul-stirring composition that conveys a powerful message of gratitude. Its captivating melodies and heartfelt lyrics make it a must-listen for fans of gospel music.