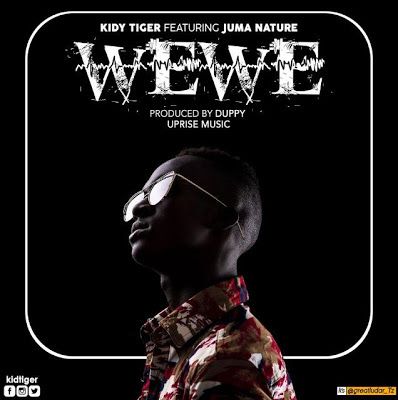 Kid Tiger has just released a new audio track titled "Wewe" featuring Juma Nature. This collaboration is creating a buzz in the music scene and is receiving positive feedback from fans.
"Wewe" is a Swahili word that translates to "You" in English. The song has a catchy and energetic vibe that listeners are loving. Kid Tiger's unique style combined with Juma Nature's expertise in rap makes for an exciting musical experience.
The lyrics of "Wewe" revolve around a love story and the emotions one experiences when deeply in love. The artists skillfully intertwine their voices, delivering heartfelt verses and a memorable chorus. The powerful messages conveyed through the lyrics resonate with many listeners.
The audio has a well-balanced mix, highlighting the artists' vocals accompanied by captivating instrumentals. The beat is infused with a blend of contemporary and traditional elements, creating a captivating rhythm that keeps listeners hooked from start to finish.
Kid Tiger and Juma Nature's collaboration brings together their individual talents, resulting in a harmonious and captivating track. Their chemistry is evident throughout the song, creating a dynamic and entertaining musical experience for fans.
The release of "Wewe" has sparked high anticipation for a possible music video, as fans eagerly wait to see the visual representation of this hit track. The audio alone has managed to attract a significant following, and fans are hopeful that a music video will soon follow.
Overall, Kid Tiger and Juma Nature's collaboration on "Wewe" is a remarkable creation that showcases their unique talents and love for music. The song's melodious and energetic style, coupled with heartfelt lyrics, is delighting fans and leaving a lasting impression on the music scene.