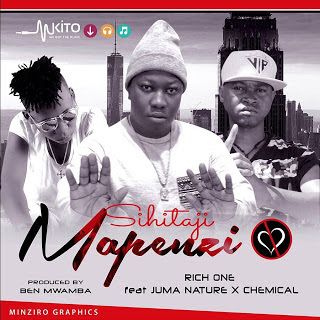 Artist: Richie One feat. Juma Nature & Chemical
Song: Sihitaji (I Don't Need)
The song "Sihitaji" is a new audio release by Richie One, featuring Juma Nature and Chemical. The title translates to "I Don't Need" in English.
The track is a collaboration between these talented artists, who come together to create a melodious and energetic tune. Richie One is known for his unique musical style and catchy lyrics, while Juma Nature and Chemical bring their own distinct rap styles to the table.
"Sihitaji" is a feel-good song that aims to uplift listeners with its vibrant beats and infectious melodies. The song revolves around the theme of self-sufficiency and independence. It encourages individuals to rely on themselves and their abilities, rather than depending on others for their success or happiness.
With its captivating blend of afro-pop and rap elements, "Sihitaji" is sure to appeal to fans of different musical genres. The lyrics carry a positive message and are delivered with the artists' characteristic charisma and skill. The track's production quality is also noteworthy, adding to its overall appeal.
Overall, "Sihitaji" is a fresh release that showcases the talents of Richie One, Juma Nature, and Chemical. The song's catchy tune and meaningful lyrics make it worth checking out for fans of East African music.