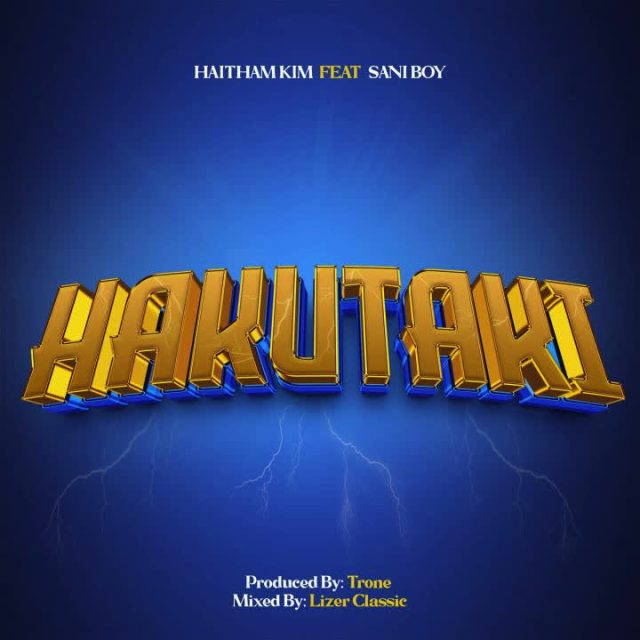 Tanzanian musicians Haitham Kim and Sani Boy have teamed up to release a brand new single titled "Hakutaki". The song, which was released in April 2023, has been causing a stir in the Tanzanian music scene and beyond.
The song is characterized by a unique fusion of modern and traditional Tanzanian music. The opening notes feature a traditional Tanzanian instrument known as the kora, setting the tone for the rest of the song. The beat is upbeat and infectious, with a distinctive Afro-pop feel that is sure to get listeners moving.
Lyrically, "Hakutaki" is a love song that speaks to the heart. Haitham Kim and Sani Boy's smooth and soulful vocals complement each other perfectly, creating a harmonious and romantic atmosphere. The lyrics speak of a love that is all-encompassing, with the singers proclaiming that they will do anything to keep their significant other happy.
The chorus is especially catchy, with the singers repeating the phrase "Hakutaki kiumbe", which means "I don't want anything else". This sentiment captures the intensity of the love that the singers are expressing in the song.
The production of the song is top-notch, with slick beats and polished mixing that showcase Haitham Kim and Sani Boy's vocal talents to the fullest. The kora, which is featured prominently throughout the song, adds a unique and authentic touch to the track.
Overall, "Hakutaki" is a testament to the diversity and richness of Tanzanian music. Haitham Kim and Sani Boy have created a beautiful and heartfelt love song that is sure to resonate with listeners of all ages. Fans of African music will appreciate the fusion of modern and traditional sounds, while those who appreciate good music in general will enjoy the infectious beat and smooth vocals.
AUDIO | Haitham Kim Ft Sani Boy – Hakutaki | Mp3 DOWNLOAD