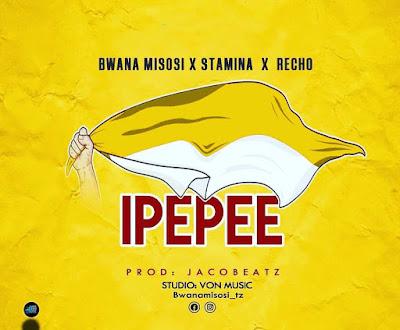 Bwana Misosi, Stamina, and Recho have joined forces to deliver their latest audio track titled "Ipepee." The song showcases a unique fusion of their individual talents, creating an energetic and captivating musical experience.
"Ipepee" is a Swahili slang phrase that loosely translates to "a celebration or excitement." The song's lyrics express a joyful and celebratory mood, emphasizing the artists' desires to enjoy life to the fullest and spread positive vibes.
In terms of the musical arrangement, "Ipepee" blends a mix of contemporary elements with the richness of Tanzanian Bongo Flava music genre. The track incorporates catchy melodies, vibrant beats, and rhythmic patterns that invite listeners to move and dance along.
Bwana Misosi, Stamina, and Recho are well-known artists in the Tanzanian music industry. Bwana Misosi is recognized for his diverse musical style, while Stamina is celebrated for his lyrical prowess and engaging performances. Recho, on the other hand, is known for her strong vocal abilities and soulful interpretations.
"Ipepee" presents a rare collaboration between these three talented artists. Their distinct talents and chemistry are evident throughout the track, contributing to its overall appeal and uniqueness.
As they join forces, Bwana Misosi, Stamina, and Recho aim to create a memorable musical experience for their fans and leave a lasting impression on Tanzanian music enthusiasts. "Ipepee" is an exciting addition to their respective discographies, showcasing their evolving musical journeys and their dedication to pushing creative boundaries.
With its energetic vibe, infectious melodies, and talented lineup, "Ipepee" promises to captivate listeners and establish itself as a popular hit within the Tanzanian music scene. Fans can look forward to enjoying the collaboration between Bwana Misosi, Stamina, and Recho as they bring their individual strengths together to create a catchy and dynamic track.